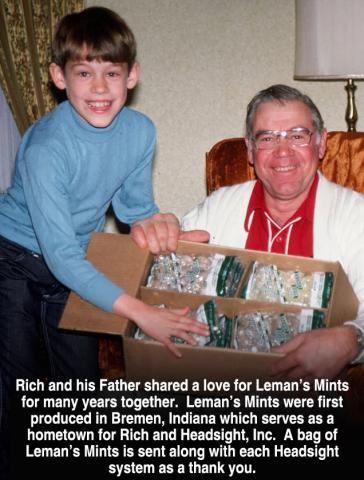 As a typical boy on the farm, it was easy for Rich Gramm to complain, "I can't do this," when an obstacle arose while trying to accomplish a task.  His wise father always replied, "Can't died, go try again."
As Rich grew older, he began to apply his father's wisdom in his own life.  During his career as a salesman, Rich became known as a problem solver.  One day a farmer asked Rich to help solve a problem.  He was not able to see the full width of his corn header, leaving it nearly impossible to control accurately.  Immediately, Rich started working on different designs and possibilities and testing them in the field.  Along with the help of good friends, designs were made and solutions were found for any obstacles that got in their way.  Headsight® was born in the mid 1990's, as solutions were found and "sight" was given to heads.
In 1998, working on a piece of scratch paper at his kitchen table, Rich designed a flexible poly paddle, which absorbed ground shock and extended the life of the sensor.  The poly paddle is still used today.
As knowledge of Headsight's success in corn height control grew across the corn belt, farmers started expressing a need for height control while harvesting standing grains.  After two years of designing and testing, the product was released to market in 2004.
Insight® was introduced in 2005 as the demand for technology grew.  This became the foundation to which the building blocks of Foresight®, Feathersight® and Magic Power Boost were added – further improving header control.
Headsight's header control product line expanded again in 2007 to include Truesight® a high accuracy row-crop autosteer system for corn harvesting.
Continuing as a leader in the header control industry, Headsight® introduced Horizon in 2013. Horizon allows greater header control and diagnostics at the fingertips of the operator.
Today, Headsight® operates as a very close-knit, family-style business that knows "can't" is still dead. "We realize the reason for our success is due to the talents and blessings from our Lord and Creator," says Rich.  "We are working to please Him and know these things are but passing.  As a company built around solving problems, we take time to recognize the greatest problem solver of all."