Headsight® Sensors are the best on the market.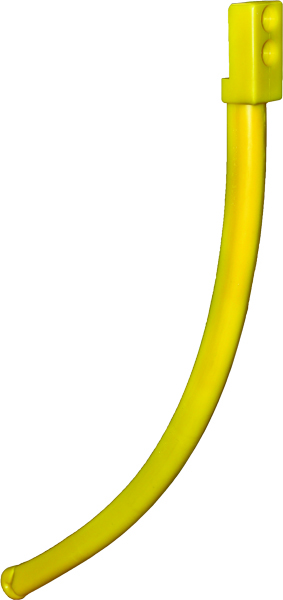 Why Headsight® Sensors?
When it comes to the protection of your header, it's all about accuracy, reliability and ease of use.  The features of the Headsight sensor demonstrate the years of experience and design that have been focused to achieve these goals.
ACCURACY
Forward Sensing | The curved shape of our arm moves the sensing point forward as the sensor nears the ground.
Down Pressure Spring | Keeps the sensor on the ground even at higher operating speeds.
RELIABILITY
Hall Effect Sensor | Uses a magnetic field to sense rotational angle.  This eliminates moving parts and increases sensor life.
Flexible Poly Arm | Allows the sensing arm to flex, which absorbs most of the shock and abuse of the field, thus increasing the life of the rotating shaft.
EASE OF USE
Reverse Spring Trip | Allows the sensing arm to flip forward if the operator reverses the combine.
Oil Impregnated Bushing | The rotating shaft has an oil impregnated bushing that never needs greasing.
---
Sensor Mounting Locations
Headsight offers three mounting locations and sensor styles to accommodate different headers and ground conditions giving your header control the earliest possible response.
Standard


The versatile and robust Standard sensor design mounts just behind the cutterbar for flex and draper headers.  Header specific mounting brackets are available for most popular header models.
Terrace
The narrow profile of the Terrace sensor allows the sensor to mount in front of the header on the crop dividers – giving the combine an even earlier warning of changes in ground conditions.  The Terrace sensor system is recommended for operators with challenging terrain or high harvesting speeds.
Low-Profile
The compact Low-Profile sensor mounts directly under the cutterbar using the existing cutterbar guard bolts.  This mount allows easy installation on rigid cutterbar headers.
Select the Correct Number of Sensors
Save money by purchasing more sensors!  Good header height control should optimize header performance and protect the header.  The more sensing points you have across the header the better these goals will be met.
The bulk of the cost of a HHC system is in the controller and the main harness.  Don't short change yourself by running too few sensors to adequatly sense your terrain.
Draper Headers and Shelbourne XCV headers 
Headsight recommends 4 sensors on all Draper headers and Shelbourne XCV headers - 3 & 5 sensor kits are not an option for these headers because center belt does not allow a place to mount a center sensor.
Auger Headers and Shelbourne CVS Headers
| | | | | | |
| --- | --- | --- | --- | --- | --- |
|   | 25' | 30' | 35' | 40' | 45' |
| Flat, Even Terrain | 2-3 | 4 | 4-5 | 5 | 5 |
| *Challenging Conditions | 3-4 | 4-5 | 5 | 5 | 5 |
*Challenging conditions include: Fast run speeds, rolling terrain, terraces, irrigation tracks, rough ground, etc.